PicoScope 4425A 4-Channel Standard Kit
USD $3,075.00


Add to cart
Click to see additional Options / Models / Accessories Available
Accessories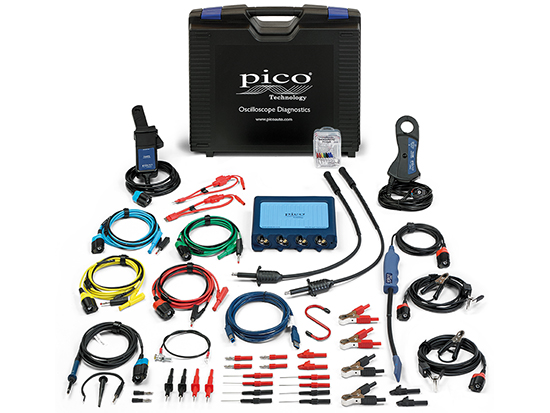 Click to view California Proposition 65 warning

The PicoScope 4-Channel Standard kit allows efficient voltage and current analysis of vehicle electrical and electronic systems to quickly find and confirm a wide range of potential faults. Powered by the PicoScope 4425A 4-channel, diagnostic oscilloscope, which features an industry-leading 400MS/s sampling rate, 250MS memory and our new PicoBNC+ intelligent lead connection technology, the kit is ideal for viewing signals from the ignition system, sensors, actuators and communications networks, as well as CAN and FlexRay protocol decoding.
The PicoScope 4425A connects to a PC via USB connection for user control and high-resolution waveform display. PicoScope operating software provides many powerful tools for waveform analysis and allows users to access a built-in database of Guided Tests and reference waveforms.
Typical Applications:
Test vehicle components/systems with minimal teardown
Find troublesome intermittent faults.
Investigate issues with no, multiple, or misleading fault codes.
Diagnose charging and starting faults.
Trace problems with actuators not monitored by the ECU
Identify mechanical problems
Develop objective data for manager/customer discussions
Part of proven NVH solution
Kit Includes:
(1) PicoScope 4425A 4-Channel Automotive Oscilloscope
(1) 1.8m USB 3.0 Cable
(1) 4.5m USB 2.0 Cable
(1) PicoBNC+ 3M Test Lead Set, Blue, Red, Green, Yellow
(1) PicoBNC+ Automotive 10:1 Scope Probe & Adaptor
(1) S Hook
(1) Breakout Lead For ATC Style Fuses
(1) Extension Lead For Mini Style Fuses
(1) Probe & Clip Kit, Black
(1) Probe & Clip Kit, Red
(1) Electronics Acupuncture Probes
(1) PicoBNC+ Current Clamp: 2000A AC/DC
(1) PicoBNC+ Current Clamp: 60A AC/DC
(2) HT Extension Lead
(1) Earth Wire For Coil Pack
(2) PicoBNC+ Secondary Ignition Pickup
(1) PicoBNC+ COP & Signal Probe
(1) Carry Case
Features
Accessory kits available for NVH and Pressure Transducer.
24 month warranty.
Software updates are free for life.
Unlimited storage of waveforms and settings.
Use with any vehicle.
Certifications: Tested to meet EN 61326-1:2006 and FCC Part 15 Subpart B.
Environmental Approvals: RoHS and WEEE compliant.
Technical
| | | |
| --- | --- | --- |
| Weight approx. | 13 | lbs |
| Power supply | Powered from PC USB connection | V/Hz/A |
| Dimensions (L x W x H) | 19 x 16 x 7 | inch |
Accessories
Other Pico Technology Products